"Oswoić gender" ("Taming gender") Podcast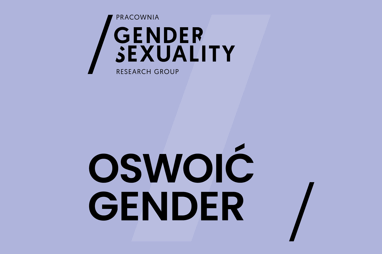 13 01 2022
On Wednesday, 12 January 2022, the "Oswoić gender" ("Taming gender") podcast premiered as part of a project dedicated to popularising the activities of the Gender/Sexuality Laboratory at the American Studies Center, under Action III.3.2.
The "Oswoić gender" ("Taming gender") podcast was created in the context of a project by Dr. Karolina Krasuska. It is being led by Dr. Anna Kurowicka and Dr. Marta Usiekniewicz, members of the Gender/Sexuality Studies Center, which is part of the American Studies Center at the University of Warsaw.
Contrary to its provocative name, research on gender and sexuality has not been deprived of its sharp critical edge, and audiences are introduced to the diversity of research which is being conducted within these scientific disciplines. In each episode, including appearances by guests, it will be shown how the issues of gender and sexuality are manifested in cultural and social life. The authors also promise to deliver a large dose of humor and recommendations – because what would a popular science podcast be without homework?
In the eight-episode first season, researchers and others associated with the Center for American Studies of the University of Warsaw will discuss topics such as the mobilisation of anti-gender movements, studies of girlhood and bisexuality, gender contexts in transformation and disability, sexual non-normativity in the People's Republic of Poland, studies of queer films, and Polish immigrants in the United States, as well as the political dimension of horrors, and post-Soviet Jewish literature in the US.
The podcast was created using funding for the promotion of research under the "Excellence Initiative – Research University" (IDUB) Programme at the University of Warsaw, and from American Studies Center UW.
The sound production and editing was done by Julia Machnowska, while Magdalena Sowul, or Panilas, author of the "Słyszane" podcast, managed the recording and studio.
New episodes will be released every Wednesday on Spotify, Apple Podcasts, Pocket Casts, and Google Podcasts.