The 2nd Conference of teams implementing the "Excellence Initiative – Research University" Programme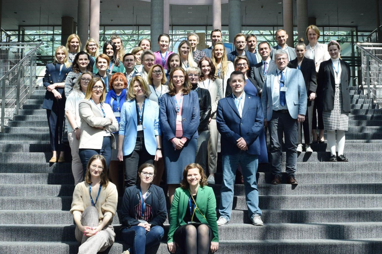 22 05 2023
Category: Events
On 11-12.05.2023, in the building of the University of Warsaw Library (BUW) on Dobra Street, the 2nd Conference of the implementation teams of the "Initiative of Excellence – Research University" Programme was held, dedicated to the mid-term evaluation of the Programme.
The meeting was organised by the IDUB Programme Manager at the University of Warsaw, Prof. dr hab. Zygmunt Lalak, and the IDUB Program Coordination and Support Team at the University of Warsaw. It was attended by representatives of all the IDUB Programme implementation teams from the top ten research universities, which were selected in the 2019 ministerial competition.
The conference was attended by representatives of the Department of Science at the Ministry of Education and Science (MEiN) and the National Information Processing Institute – National Research Institute (OPI-PIB), who gave presentations on the preparation of the mid-term report and the planned course of the evaluation. They also provided answers to substantive and technical questions related to IDUB Programme reporting. Participants reviewed insights from the Programme's implementation at individual universities, and shared lessons learned and best practices. Finally, challenges for the coming years of implementing the IDUB Programme were discussed.
Prof. dr hab. Lalak summed up the conference as having been a successful one, the results of which will allow for even better preparation for the evaluation and settlement of the first implementation stage of the IDUB Programme.
(photo: Jadwiga Antoniak, BUW)